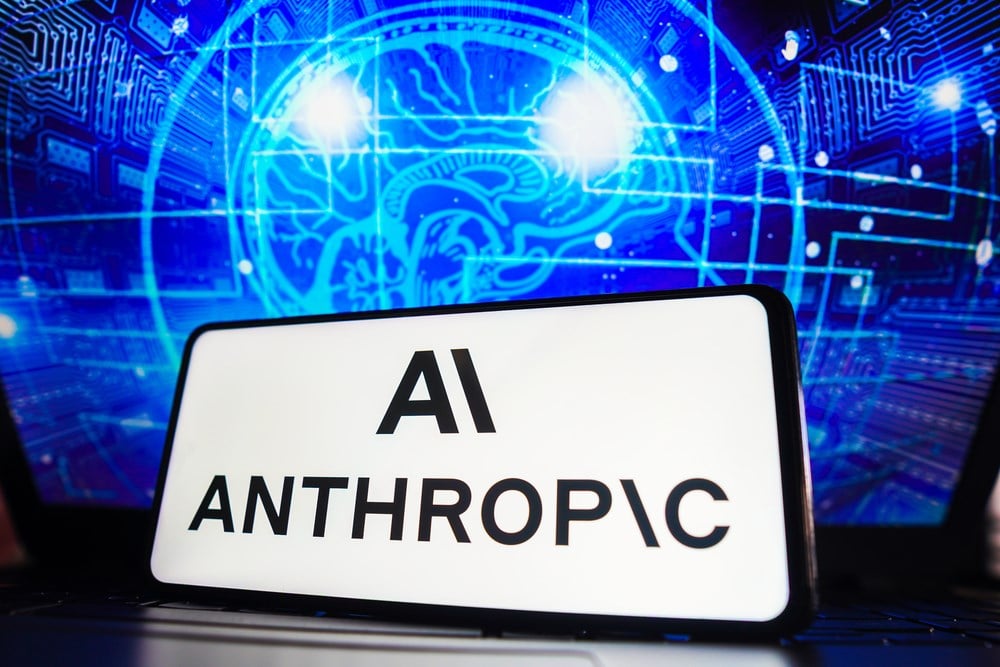 If you're interested in the developing world of artificial intelligence, you've undoubtedly heard of human-like chatbot ChatGPT. 
Created by AI research firm OpenAI, ChatGPT is an advanced AI language model that can understand and generate human-like text based on input. But OpenAI isn't the only company involved in exploring the use of AI for commercial purposes — competitor Anthropic is also making waves with investors for its powerful Claude 2 chatbot. 
Founded by former members of OpenAI, inventors across the country are clamoring to invest in the Anthropic company. While Anthropic has no stock ticker or plans to pursue an IPO, investors can add robotics to their portfolios. Read on to learn more about Anthropic as a company and investment opportunities. 
What is Anthropic?
What is Anthropic AI? In the craze of AI startups, some researchers are concerned about how quickly researchers are moving in training these models. Anthropic was founded by siblings Daniela and Dario Amodei, who previously worked at OpenAI and left the company following concerns that the company was becoming too commercialized. They created the company as a startup and public-benefit corporation to develop AI tech with more ethical guardrails in place. 
Despite this, Anthropic has followed a similar path as OpenAI, raising $1.6 billion in funding as of August 2023. It recently released its competitor to ChatGPT, Claude 2. The Claude 2 chatbot is a generative text platform trained using data scraped from the internet combined with human feedback. The company has also released a faster and cheaper model for businesses called "Claude Instant," which also features constitutional AI designed to reduce brand risk. 
Can You Buy Anthropic Stock?
Unfortunately for AI enthusiasts, you won't find the Anthropic stock price anywhere because it is not listed on any exchange. Investors can only purchase shares of stock of publicly traded corporations that have met the conditions required to offer shares to retail investors. Anthropic is a privately held company, meaning that you must acquire ownership shares through private equity transfer. 
When Will Anthropic Have its IPO?
A private company can shift to public ownership through an initial public offering (IPO). During an IPO, companies must undergo strict financial documentation and disclosure to investors before shares are offered to the public for the first time. Companies may pursue an IPO to gain money for upcoming projects but must overcome a series of expensive hurdles before the company can offer shares.
Investors interested in gaining exposure to AI are asking — what date will the eventual Anthropic IPO be? Anthropic has not set a date when it plans to go public, and the company's management has not announced or indicated that it would pursue an IPO.
The Securities Exchange Commission (SEC) intentionally makes it challenging for a company to pursue an IPO because it wants to encourage only financially stable operations to seek input from retail investors. A relatively new company founded in 2021, Anthropic is unlikely to seek an IPO soon due to the expense and planning involved in offering stock to the public for the first time. 
According to a leaked funding document, the company's primary focus seems to currently be raising more funds from institutional investors to fund its next chatbot, titled "Claude-Next."
5 Related Robotics Stocks to Invest in
While you cannot currently invest in Anthropic stock, and no Anthropic stock ticker is coming shortly, plenty of robotics-focused companies have public stock offerings. As you learn how to invest in Anthropic stock ahead of its IPO, consider a few of the following robotics stocks for your portfolio now. 
ABB Ltd.
An international firm focused on investigating the Industrial Internet of Things (IIoT) and data analytics, ABB Ltd. (NYSE: ABB) is a robotics company with a market capitalization of more than $69 billion. 
Considered one of the most proactive robotics companies currently available on the publicly traded market, ABB recently partnered with software giant Microsoft Corp. (NASDAQ: MSFT) to integrate AI into industrial processes. The partnership aims to reduce machine downtime and consolidate operational data for improved company insights. 


Intuitive Surgical Inc.
If you're looking for healthcare stocks and robotics companies to invest in, Intuitive Surgical Inc. (NASDAQ: ISRG) may be worth investigating. Intuitive is a prominent medical technology company specializing in robotic-assisted surgical systems — its da Vinci Surgical System is the most well-known offering. Surgeons can complete urology and cardiothoracic surgeries using the da Vinci system, a precision-improving robotic platform. This system allows surgeons to reduce surgery times and provide more minimally invasive treatments.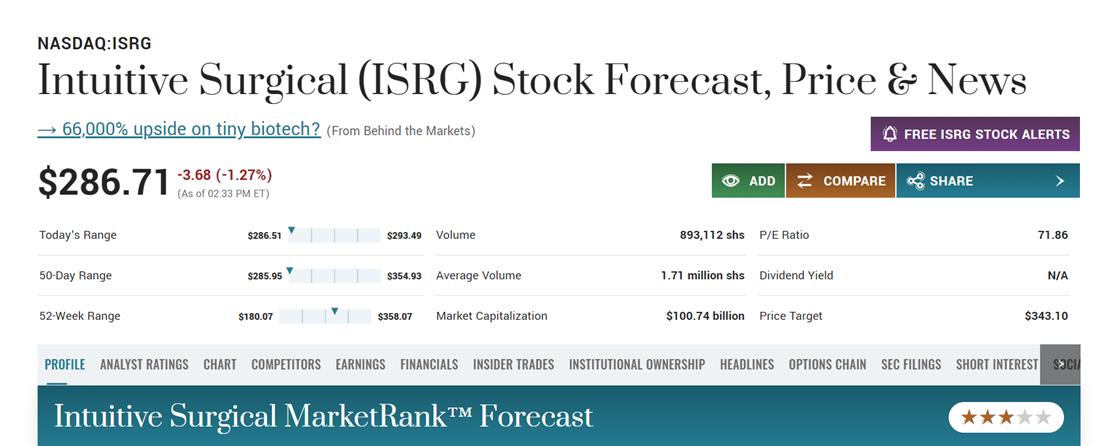 NVIDIA Corp.
While chipmaker NVIDIA Corp. (NASDAQ: NVDA) isn't directly a robotics company, it creates a crucial product that drives the robotics industry. In August 2023, the company's shares hit a new all-time high price of more than $500 per share as demand for chips continues to drive the AI revolution. The company expects demand to continue through 2024 and aims to keep up with the consistent and growing need for its product within the robotics industry. 
NVIDIA recently hit a total market capitalization of more than $1 trillion, making it a blue-chip option tangential to the robotics industry. NVIDIA could be the right option if you're looking for a name that's almost meme-stock-worthy but also offers an in-demand product.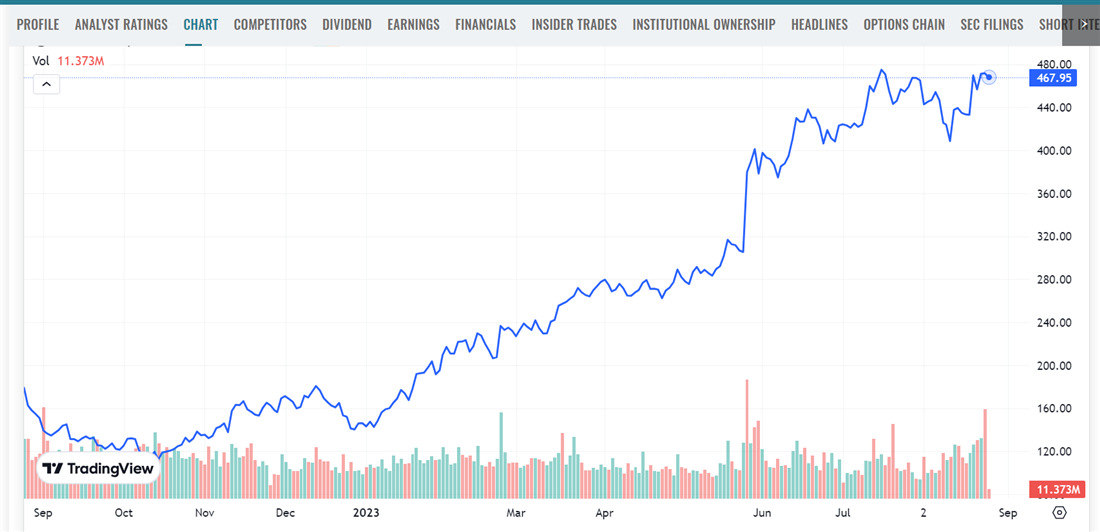 Image: NVIDIA's stock has steadily risen in price since June 2023.
UiPath
Another leading name in robotics, UiPath (NYSE: PATH) is best known for its software programs and offerings, which are integral to business streamlining. For example, one of its most well-known products is its UiPath Business Automation platform, which allows businesses to automate various repetitive and rule-based tasks using software robots, often called "bots." 
These bots mimic human interactions with digital systems, allowing companies to streamline operations, reduce manual work and improve efficiency. In 2023, the company had a total market capitalization of more than $8 billion and saw its software integrated across the IT, healthcare and insurance sectors.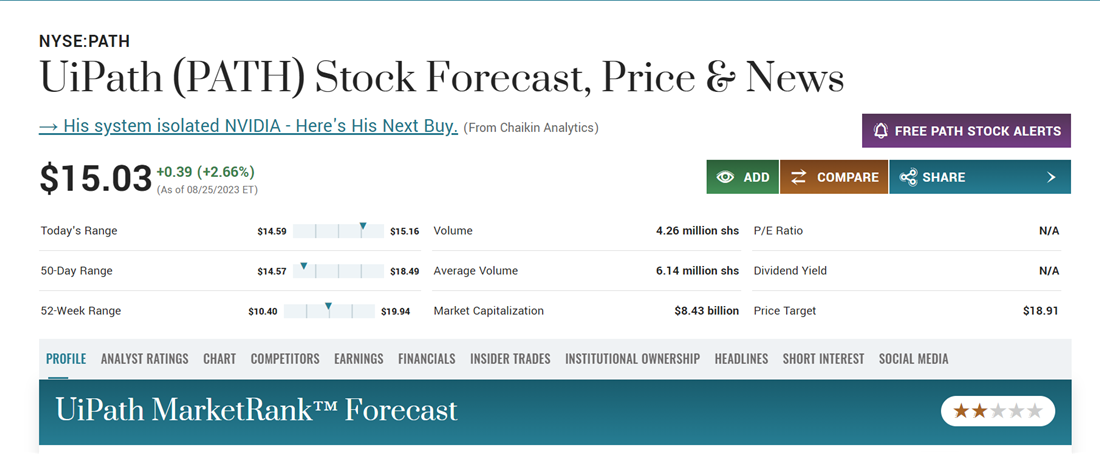 Teradyne Inc.
A unique supplier within the robotics industry, Teradyne Inc. (NASDAQ: TER) specializes in designing, developing and supplying automated test equipment and solutions for the electronics and semiconductor industries. 
Teradyne's core business revolves around providing testing solutions that help electronics manufacturers ensure the quality and reliability of their products, especially integrated circuits and electronics systems that need additional fail safeguards to keep customers safe. 
While not primarily a robotics stock, like NVIDIA, Teradyne offers an ancillary product required to keep the robotics industry running. Its systems can automatically test and validate electronic components and systems, streaming the robotics manufacturing process and removing another potential level of human error. While some argue that the stock is going through a correction cycle, in August 2023, Teradyne showed a total market capitalization of nearly $16 billion. 

5 ETFs with Exposure to Robotics
While the Anthropic IPO date has yet to be announced, you can still add a layer of exposure to the robotics industry by investing in an exchange-traded fund (ETF). ETFs are collections of stocks that track a particular index and attempt to replicate its performance. Some ETFs are actively managed, and include collections of assets hand-selected by the fund's management team.
ETFs benefit newer investors by adding a layer of diversification to your portfolio without requiring you to select individual companies. The following are a few of the largest ETFs that offer exposure to the robotics sector. 
Global X Robotics & Artificial Intelligence ETF
As its ticker suggests, the Global X Robotics & Artificial Intelligence ETF (NASDAQ: BOTZ) invests in companies that manufacture and sell robotics or the chips and other ancillary products needed to support the industry. Some of the fund's top holdings are in NVIDIA, Intuitive Surgical and ABB, which comprise more than 30% of the fund's assets. If you're looking for a singular fund investment with multiple items on this list and an expense ratio of less than 1%, BOTZ could be a viable addition to your portfolio.
First Trust Nasdaq Artificial Intelligence & Robotics ETF
The First Trust Nasdaq Artificial Intelligence and Robotics ETF (NASDAQ: ROBT) tracks the Nasdaq CTA Artificial and Robotics Index, primarily investing in robotics and industrial companies. Tech stocks comprise about 60% of its holdings, a major contributor to the sudden surge in share price this ETF saw during the COVID-19 pandemic and beyond. In August 2023, the fund's total market capitalization was $385 million, showing an expense ratio of 0.65%. 

Direxion Daily Robotics, Artificial Intelligence and Automation Index Bull 2X Shares
The Direxion Daily Robotics, Artificial Intelligence and Automation Index Bull 2X Shares (NYSE: UBOT) presents a unique option for investors looking for compounded exposure to the growing fields of AI and robotics. This fund tracks the Indxx Global Robotics and Artificial Intelligence Thematic Index, with most of its holdings maintained in other robotics-related ETFs (like BOTZ). This fund is 2x leveraged, meaning you'll see any returns (or losses) amplified. Keep this (as well as the higher-than-average expense ratio of 1.29%) in mind before you buy. 

ROBO Global Robotics and Automation Index ETF
The Robo Global Robotics and Automation Index ETF (NYSE: ROBO) invests in a wide range of companies, with no single holding making up more than 3.5% of the fund's total assets. This fund invests in a series of robotics companies, focusing on those that offer cloud computing and machine learning and research services. Its expense ratio is a bit high at 0.95%, but this fund can be an interesting option if you're looking for international robotics exposure. In August 2023, less than 45% of the fund's holdings were in U.S.-based companies, with other top countries including Japan (19.3%), Germany (7.1%) and Switzerland (4.7%). 

iShares Robotics and Artificial Intelligence Multisector ETF
Finally, the iShares Robotics and Artificial Intelligence Multisector ETF (NYSE: IRBO) is a consumer-oriented ETF that combines international small-cap research companies with popular names in tech products. Some of the fund's top holdings are in live-streaming platform fuboTV (NYSE: FUBO) and small-cap Chinese AI-oriented research companies Faraday Technology Corp and Meitu Inc. IRBO might be worth exploring if you're interested in combining research stocks with stocks that capitalize on more practical consumer applications of technology.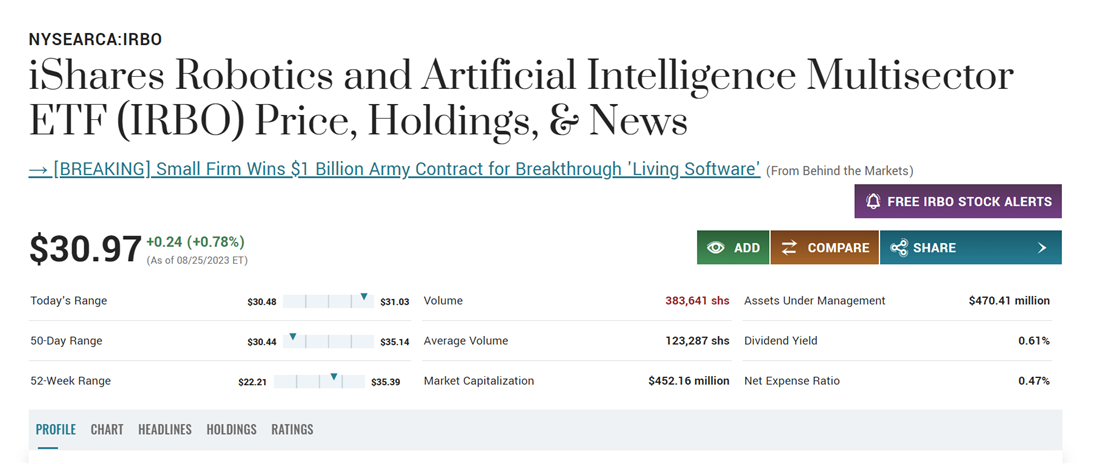 Is Anthropic Publicly Traded?
While we're unlikely to see Anthropic AI stock on the market soon, you can still invest in companies crucial to the growing AI and robotics industries. For example, while companies like NVIDIA and Teradyne do not directly create and test AI software, they offer products and services without which these industries cannot function. 
Stocks like these can allow you to gain some exposure to the market while you prepare for the Anthropic stock symbol to debut eventually. Creating a brokerage account before Anthropic offers its IPO also allows you to gain the ropes of the market and experiment with different trading strategies. Remember never to invest more money than you can afford to lose in a single company, no matter its promise.