This S&P 500 Metric is at its Highest Level Ever: What Can Can Investors Do?
August 23, 2020 at 09:00 AM EDT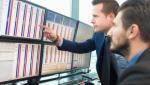 By Eric Dutram, Contributor, DWS When you buy an investment tracking a benchmark such the S&P 500 Index, do you know what you are getting? Sure, it sounds simple at first. For those focused on a standard S&P 500 Index, you'd get 500 of America's largest stocks by market capitalization....