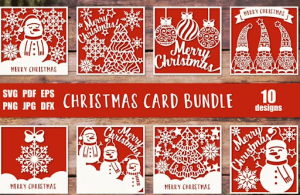 [London, UK] [November, 2022]— Are you feeling festive yet? Excitement is in the air already, and we're starting to count down the sleeps to Christmas. It won't be long before our kids ask us to hang the stockings and put up the tree – and we can't wait.
It's also the time when creatives, crafters and businesses start to focus on holiday makes. There's nothing like a Christmas craft to put you in the Yuletide spirit, and what's more, making your own ornaments or gift boxes can make the season of giving that little bit more personal.
But you don't have to spend a fortune to make this Christmas one to remember. Crafters rejoice – Design Bundles, the leading marketplace for creatives, is offering an incredible Christmas paper craft bundle for only £16.67 ($), a remarkable 93% discount! Get 40 festive products, including shadow boxes, money cards, gift tags and more (offer valid until 4am GMT on Thursday, December 22, 2022).
It's a good time to get crafting now that we're all being a little more careful with our money. Personalise your Christmas and add a little magic to your storefront this year and for even more savings, start your free trial for Design Bundles for an extra 15% off.
Check out the bundle below before it's too late!:
https://designbundles.net/the-christmas-paper-craft-bundle#gtmPos=1&gtmList=2
About Design Bundles:
Design Bundles is the go-to digital design marketplace for graphic designers, crafters, businesses, and educators. Rated excellent on TrustPilot, Design Bundles has a comprehensive and exhaustive range of SVG files, fonts, laser cutting templates, and more. Design Bundles offer free and paid premium design resources with savings of up to 96% off RRP from thousands of independent designers, with new design resources each week.
Source: https://thenewsfront.com/design-bundles-offers-incredible-discount-on-christmas-paper-craft-bundle/
About Design Bundles
DesignBundles.net offer exclusive deals on high quality premium design resources and free design resources. We offer savings of up to 96% off the RRP on design elements from thousands of independent designers.
Contact Design Bundles
455 E Eisenhower Pkwy
Ann Arbor
MI 48108
United States
(734) 887-9510
Website: https://designbundles.net/