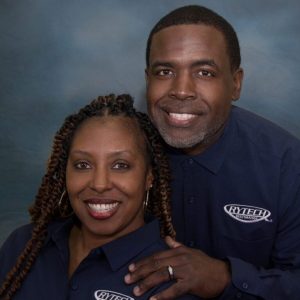 Rytech Restoration congratulates yet another franchise team, Vincent and Michelle Padgett who earlier this year formally opened operations in Washington D.C. Along with the couple original franchise Rytech Restoration of North Metro franchise, the two locations now provide emergency damage restoration services from Laurel, MD throughout the Capitol City.
Rytech helped this duo do what it has helped so many other husband and wife teams do–achieve both their professional and personal goals via a Rytech Restoration franchise.
After the Padgett's did their due diligence, they found Rytech had true turnkey operations that included software and training to run and manage their business for them.  They liked the established relationships Rytech had with insurance carrier partners—this made marketing easy, driving new business to an operation with one of the fastest claims cycles in the industry.
While the opening of one more franchise in Rytech Restoration's already nationwide galaxy may seem routine, there's still something quite special about a location in America's capital, Washington, DC.
Special, because it fills a small gap between existing franchises in contiguous Maryland and Virginia and special because DC is the seat of American Government.
Geographically speaking DC is small, just over 68 square miles. By comparison Rhode Island, the smallest state in the country, is 1,212 square miles. Still, it's home to over 700,000 potential residential clients—and a whole lot of commercial and governmental opportunities. 
It's a perfect match for the experienced Rytech Restoration of North Metro teams being led by Vincent and Michelle Padgett.  They may have begun operations late last year (with 2 employees, including one family member) but they've been in restoration, together, for more than two decades.
Previous to Rytech, Vincent, who is just 41 years old, was an environmental director at another Laurel water damage restoration company. In his early days he attended Montgomery College. 
Michelle went to medical school and pursued a fulltime career in medicine. "No hobbies" she says "… during that time it was all work."  After graduating she went straight to work at Johns Hopkins Hospital. She honed her management and organizational skills before owning a Rytech franchise by managing a successful life insurance agency which she owned for many years.   
And, proving that Rytech corporate wants all its owners to succeed, "We really like and appreciate the support received from the corporate team. We have not been owners long but if something sticks out it is certainly their willingness to help get our franchise going in the right direction."
Rytech welcomes this exciting new husband and wife team to its' team.  Congratulations Vincent and Michelle and best of luck on your Rytech journey!
Count On Rytech Restoration's 24-Hour Emergency Response When It Matters Most
No one expects a water, fire, or mold emergency to strike. Rytech Restoration provides fast, 24/7 emergency service to help customers pick up the pieces after disasters and get back to normal in the shortest amount of time possible.
From residential homes to commercial buildings, Rytech Restoration helps protect them all. Our empathetic approach to customer care has led hundreds of insurance carriers to choose Rytech to help their members during their time of need.
We promise fair pricing based on industry standards and pricing tools. Industry reporting shows Rytech is consistently priced less than competitors' quotes.
Live specialists are ready to answer your questions and dispatch a local restoration expert to residential homes and commercial businesses throughout Laurel, Bowie, Washington DC and surrounding areas.
Rytech Restoration Of Washington DC
Emergency Response: (240) 628-4828
Address: Washington, DC 20009
Website: washingtondc.rytechinc.com
Rytech Restoration Of North Metro
Emergency Response: (202) 869-3322
Address: 14511 Hampstead Way, Laurel, MD 20707
Website: north-metro.rytechinc.com
Source: https://thenewsfront.com/rytech-restoration-of-north-metro-expands-its-emergency-restoration-services-from-laurel-to-washington-d-c/
About Rytech Restoration of North Metro
With over 26 years in the water damage mitigation service, Rytech is the company to call when an emergency strikes. Our team handles multiple services for large and small-scale damage and loss. We will be at your door in four hours or less.
Contact Rytech Restoration of North Metro
14511 Hampstead Way
Laurel
Maryland 20707
United States
202-869-3322
Website: https://north-metro.rytechinc.com/