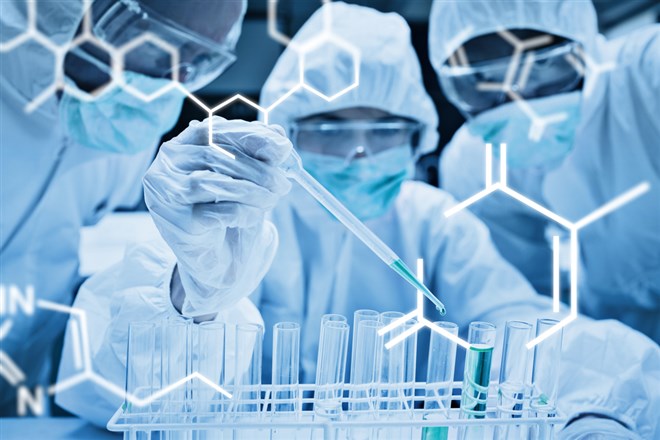 The Kala Pharmaceuticals (NASDAQ: KALA) stock price has seen some stunning rallies over the past month and is currently up 439.42% at the time of writing.
Shares of the biopharmaceutical company exploded when it announced the FDA accepted its investigational new drug (IND) application for KPI-012 IND, a stem cell secretome for treating persistent corneal epithelial defect (PCED).
The company's stock price has since slipped lower toward the downside, and it is currently down 11.53% at the time of writing. The price action trend points towards a greater sell-off in the stock price, and a high number of shares are sold short.
The next step for the company is to roll out its Phase 2b clinical trials, which will take place this quarter - but where does this leave investors? Let's look at some technical and fundamentals behind the stock to see where its rapidly declining stock price might end up on news of this development.
What's next for Kala Pharmaceuticals ?
First, let's look at the rally, which kicked off on 4 Jan. The rally's peak was reached a day later, reaching an overbought rating, and has since struggled to find support on the hourly charts. If the short-term trend continues, it will dip into the oversold territory at around the $20 to $20.50 psychological levels.
The enthusiasm for the announcement has since been sucked out of the stock, as can be seen from the lack of volume on the red and green candles. This lack of liquidity will make consolidation more difficult, which is made worse by the variation in its trading range.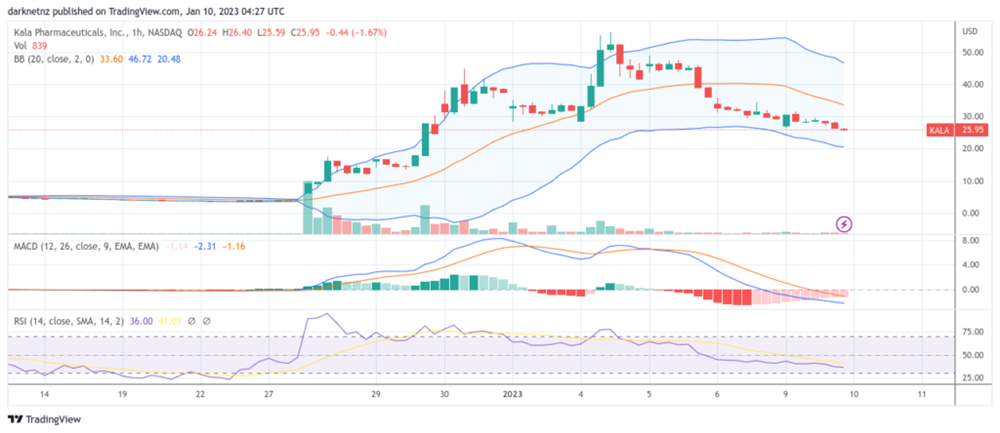 In short, the stock price is falling to a level where investors feel it is fairly valued. It's presently a falling knife and has a short interest ratio of 7.84% at the time of writing.
So now we know where the stock might be headed overall, let's investigate how Kala's announcement may change its fundamentals moving forward. This may give us a heads-up about its future intrinsic value and, ultimately, its long-term average stock price.
How does this change Kala's valuation?
The rally was mostly built on hype following the announcement for a few reasons. First, the FDA giving the green light is just one step of a complicated series of steps before any earnings from the treatment can be made. And secondly, PCED is a relatively rare disease that affects around 100,000 people each year in the United States, so not exactly a cure for the common cold.
Strictly speaking, the answer to how this drug treatment changes Kala's valuation is that it doesn't - unless someone wishes to make some very adventurous assumptions. Before the treatment generates earnings, it's worth nothing in terms of its intrinsic value.
It's too early in its product development pipeline to make these forecasts. If and once its trials are complete and it has agreements with customers to procure the treatment, only then can forecasting be done with adequate reliability.
Risks with Kala Pharmaceuticals 
There are many risks with Kala and biopharmaceutical companies that should be considered carefully.
Biopharmaceutical companies are risky investments due to the large amount of research and development required to be successful, along with the long timelines and high failure rates associated with new drug development. The high cost of drug development is a major risk for biopharmaceutical companies. The cost of drug development also rises with the drug's complexity and the number of clinical trials required.
It can also take years for a drug to go through the development process and be approved for sale. This means that a biopharmaceutical company may have to wait a long time before seeing any investment return.
Finally, the high failure rates of drugs in clinical trials are another major risk for biopharmaceutical companies. Drugs can fail in clinical trials due to safety concerns, lack of efficacy, or other factors. This high failure rate means that even if a drug is successful in a few trials, it may still fail in later trials and never make it to market.