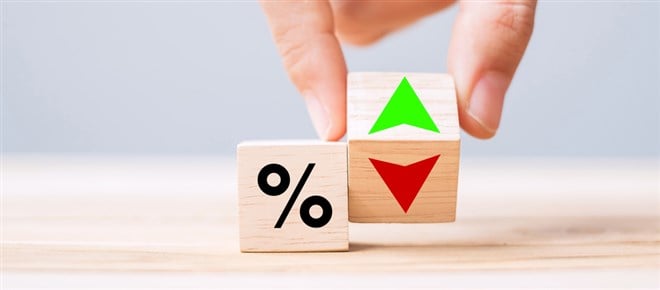 Global Edtech and education company Genius Group Ltd (NYSE: GNS) shares have spiked by 1700% for 2023. The stock was trading just a few hundred thousand shares a day leading up to its 269 million shares trading day on Jan. 19, 2023, where it spiked 290% to close at $2.09. Interest has remained relatively strong as shares have doubled since then to $5.71.
The 52-weekly range sits at $0.30 to $36.75. The Company offers entrepreneurship classes claiming itself as "The World's #1 Entrepreneur Education Group" with over four million students throughout 200 countries.
It competes on a smaller scale than other publicly listed education companies like Chegg Inc. (NASDAQ: CHGG), Strategic Education Inc. (NASDAQ: STRA), and Stride Inc. (NYS: LRN). It has been on an acquisition binge acquiring Entrepreneur Resorts in 2020 for $32 million and plans another $80 million in future acquisitions. It has the potential to be a meme stock.
What Does Genius Group Do?
Genius Group provides live and online classes, both off and on campus, tailored around leadership and entrepreneurship. Its programs start for kids as early as 0 to 7 years old for early learning to the entrepreneur stage for ages 16 to 80.
Its curriculum caters to individuals, businesses, schools, governments, students, and teachers. Genius Group owns many properties and restaurants through Entrepreneur Resorts Limited, which it acquired for $32 million in June 2020. 
Ugly Price History
Singapore-based Genius Group Ltd. IPO'ed on the NYSE American exchange on April 12, 2022. Shares hit a high of $36.75 and a low of $13.03 on the first day of trading on just over one million shares volume. Shares have since fallen to a low of $0.30 before staging a rally.
Waging War on Short Sellers
The Company claims evidence of a significant amount of illegal short selling in its stock. The Company has blamed illegal short selling as part of the reason for the stock getting pummeled.
Its Board announced plans for creating an "Illegal Trading Task Force" on Jan. 19, 2023, to investigate and pursue with regulators the prosecution of persons engaged in market manipulation of its shares. Former deputy director of the F.B.I. Timothy Murphy will lead the investigation.
The press release of the task force caused a massive stock surge on massive volume. This comes after the Jan. 18, 2023, Board meeting, which approved the spinoff of its hospitality-focused subsidiary, Entrepreneur Resorts ltd.
Volume soared to 269 million from 18 million shares the previous day as the stock rallied nearly 400% to close at $2.09. The Company has a 10 million share float and just under 25 million shares outstanding for an $80 million market cap. Various sources show less than 100,000 shares short. However, the illegally short stock wouldn't appear in the short interest data.
Fiscal 2023 Revenue Guidance
On Jan. 23, 2023, the Genius Group raised its fiscal full-year 2023 financial guidance. The Company says it's heavily weighted towards the year's second half.
It expects full-year revenues of $48 million to $52 million, up 37% from $35 million to $38 million 2022 pro forma guidance. It expects students to jump 30% from 5.7 million to 6 million. It expects adjusted EBITDA between $500,000 to $1,000,000.
Genius Group CEO Roger Hamilton commented, "We believe the courses we deliver are counter-cyclical. In challenging economic times, more people seek education to grow their financial literacy, and entrepreneurial and investing skills. In 2023 we are expecting Genius Group to continue our strong growth trajectory, and we are focused on managing our costs and achieving positive EBITDA. We have a strong management team in place, the integration process of our five acquisitions in 2022 is underway, and we are looking forward to a successful 2023."
Entrepreneur Resorts Spinoff
On Jan. 30, 2023, Genius Group announced the Board's approval of a spinoff if it's Entrepreneur Resorts Ltd. Entrepreneur Resorts Ltd operates a Bali resort, South Africa safari, and co-working cafes in Bali and Singapore. The purpose of the spinoff is to enhance shareholder value.
Entrepreneur Resorts is publicly listed on the MERJ Stock Exchange (ERL) with a share price of $2.75, implying a $37 million market capitalization. Genius Group owns 97% of outstanding shares. It's subject to shareholder approval and possible court order.
Extraordinary Shareholder Meeting Scheduled
The Company announced an extraordinary general meeting on Feb.16, 2023, for shareholders to vote on two proposals. Shareholders must vote on the resolutions for a share repurchase mandate and a share consolidation. A share consolidation proposal is a mean to reduce the number of outstanding shares, usually through a reverse split. Both of these actions may further perpetuate a short squeeze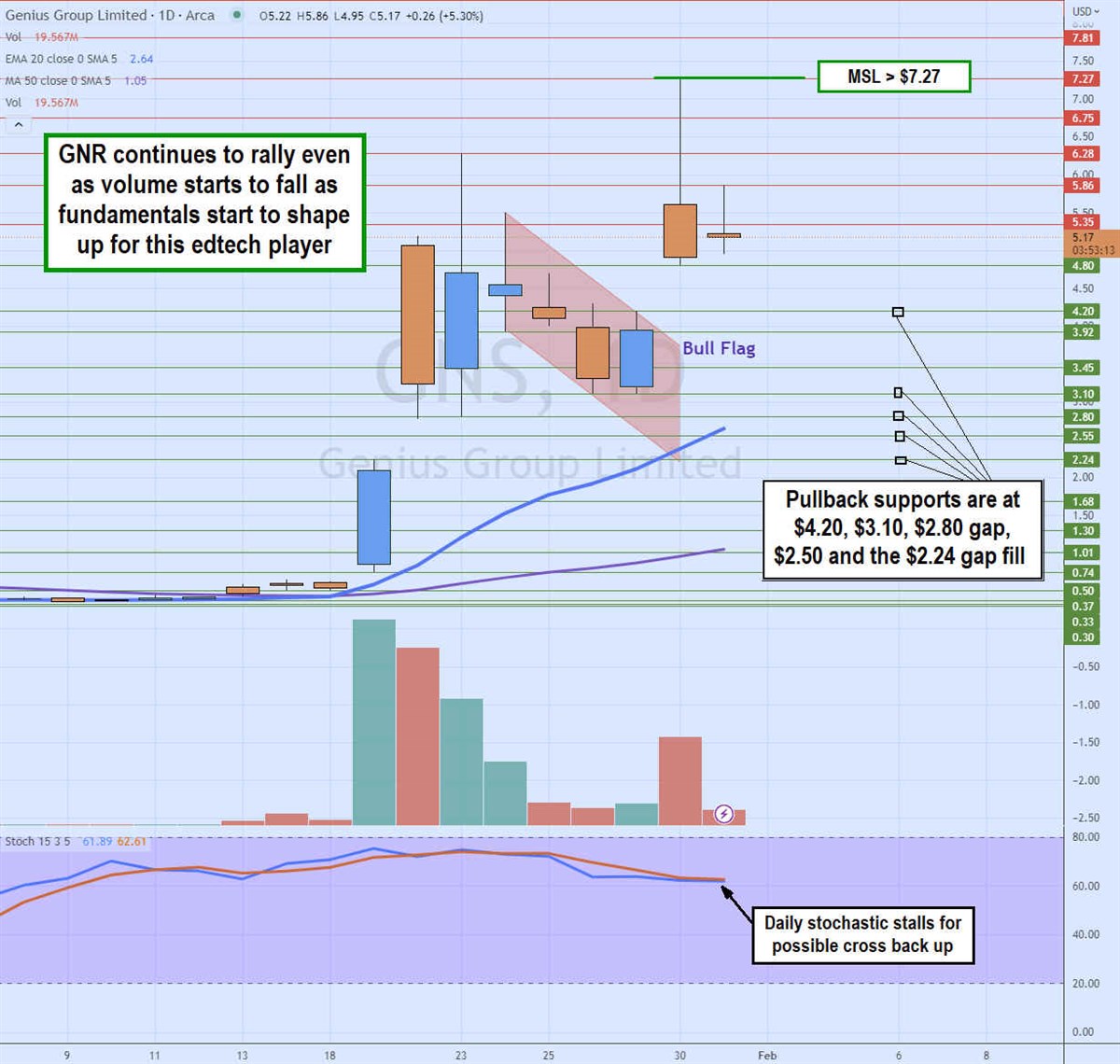 Daily Bull Flag Breakout
GNR daily candlestick chart indicates a bull flag breakout. After hitting a high of $6.28 on Jan. 23, it continued to make lower lows setting up the flag. The bull flag triggered the gap breakout through the $3.92 level on Jan. 30, as shares hit a peak of $7.27 before the reversion.
Since it was a higher low candle, it also set up the daily market structure low (MSL) buy trigger on a breakout through $7.27. The weekly 20-period exponential moving average (EMA) support rises to $2.64 followed by the $daily 50-period MA at $1.05. Pullback supports sit at $4.20, $3.10, $2.80 gap, $2.59, and the $2.24 gap