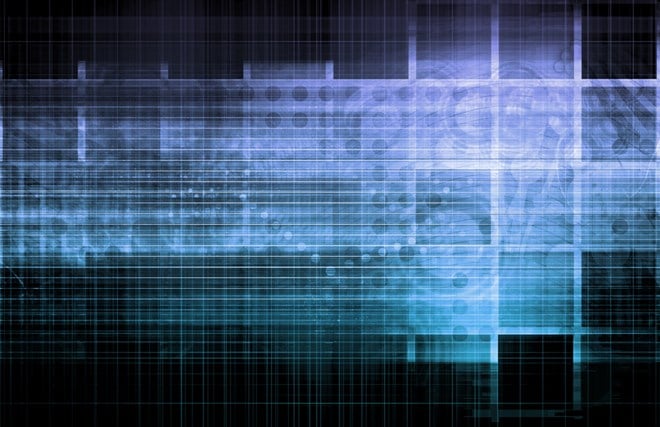 Wednesday marked the trading debut of GE HealthCare Technologies Inc. (NASDAQ: GEHC), the health-focused independent business spun off from General Electric Company (NYSE: GE). 
Shares opened at $54.13 Wednesday and ended the session at $60.49, an increase of nearly 12%. 
Meanwhile, legacy company GE, which will now focus on the existing aviation business, gapped down nearly 18%. 
GE said last summer that it would split into three companies to unlock shareholder value via separate businesses. GE has a long history as a conglomerate and, in 2018, was the last of the original stocks to be dropped from the Dow Jones Industrial Average.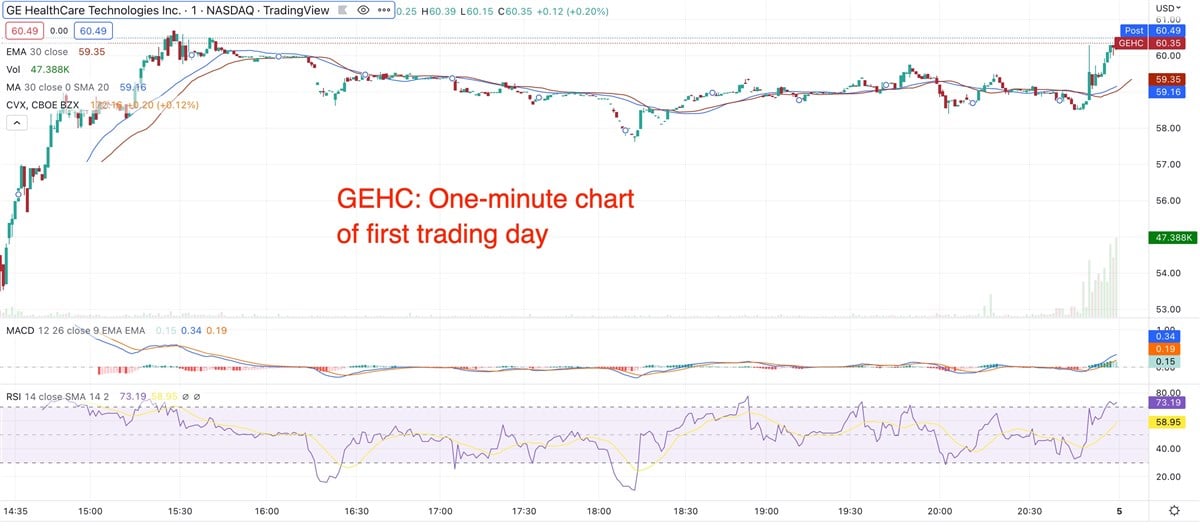 Shares have been mired in mediocrity in recent years, notching the following returns:
1 year: -11.37%
3 years: -3.54%
5 years: -9.02%
10 years: -2.92%
15 years: -4.21%
Investors holding onto those shares for the long haul incurred quite an opportunity cost, although a rally between 2009 and 2016 would have yielded a solid return.
The GE ticker will be applied to a business called GE Aerospace. Current CEO Larry Culp will head up that company. This business can license the GE name to other companies and products, including those ubiquitous light bulbs manufactured by another company but marketed using the GE name. 
Starting Out With $18 Billion In Sales
The new entity, GE HealthCare Technologies, begins life with about $18 billion in yearly revenue, a presence in more than 160 countries, and about 51,000 employees around the globe. The company said about half of that revenue came from recurring sources, which is always a good sign. It means the sales team isn't starting from scratch every month or year. 
The company has four business units: Imaging, Ultrasound, Patient Care Solutions, and Pharmaceutical Diagnostics.
According to the company's news release when it began trading Wednesday, GE HealthCare Technologies "expects its addressable markets will expand from $84 billion in 2021 to $102 billion by 2025. That expansion provides significant opportunities for growth and execution of the Company's precision care strategy to safely and securely integrate patient data from imaging, lab, pathology, genomics, and other sources."
It further noted that precision care layers those data with artificial intelligence using the company's Edison platform and digital apps. This strategy develops information to help clinicians diagnose diseases and determine the best treatments.
Factors including Covid-19 and people living longer with chronic diseases have increased the need for image scans, and GE HealthCare hopes to address some of that demand. At an investor day last month, Jan Makela, president, and CEO of GE HealthCare's Imaging business, said the company's products could scan in half the time of a conventional process while also improving image quality. 
Sales Growth In Mid-Single Digits 
At the same event, GE HealthCare CEO Peter Arduini said the new company had targeted medium-term organic sales growth in the mid-single digits. The company is also evaluating acquisitions to grow revenue. One example was its 2022 acquisition of ultrasound device manufacturer BK Medical. 
GE shareholders retain nearly 20% of the outstanding shares of GE HealthCare's common stock.
The spinoff represents a blow for GE shareholders, though. The healthcare segment accounted for about 25% of GE's revenue in 2021.
GE HealthCare, headquartered in Chicago, has a market capitalization of nearly $27 billion. That means it could eventually qualify for inclusion in the S&P 500. 
It will be tracked within the medical devices industry, which is home to fellow large caps such as Intuitive Surgical Inc. (NASDAQ: ISRG) and 
IDEXX Laboratories Inc. (NASDAQ: IDXX). Both are components of the S&P 500. GE HealthCare's market cap puts it instantly as the third-largest company in its industry group. 
The third company to be spun off will comprise GE's Power and Renewable Energy business units, known as GE Vernova. Culp said GE expects to complete that spinoff in early 2024.