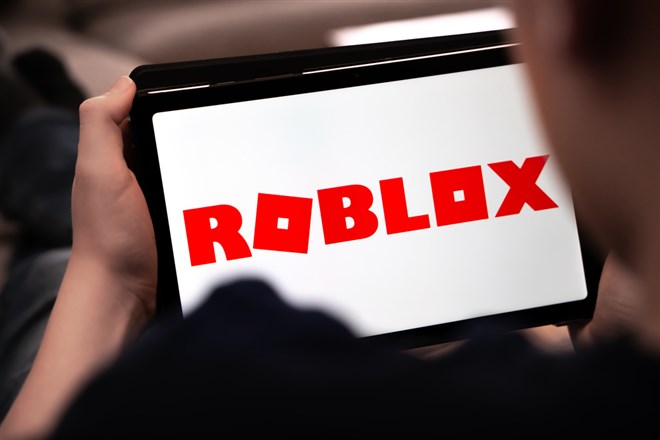 High inflation and a weakening economy have caused consumers to rein in their discretionary spending. It's been a common theme among most industries, including video games. Roblox Co. (NYSE: RBLX) has had problems monetizing engagements, which still show strength. Like Unity Software Inc. (NYSE: U), Roblox sells sponsored ads on its platform.
Users are playing games; they just aren't spending money. Engagements have been robust, but bookings have been weak. This has resulted in shares of Roblox gapping up on the monthly traffic updates and selling off on the actual earnings results. That dynamic changed in its Q4 2022 earnings release.
Trick or Treaters
Most Roblox users are kids 16 years and younger. Half the kids in the U.S. are on the platform. The platform enables users to develop, play, share, and monetize games. Roblox is its metaverse, complete with its currency. It's free to use, but purchasing its Robux currency offers more options and privileges.
Roblox makes its revenues from Robux currency which can be purchased online, through the app, and in retail stores as physical Roblox cards.
Robux Economy
Robux is used for microtransactions ranging from fractions of a penny to hundreds of dollars. Robux lets users buy digital items, characters, accessories, skills, and tools. It's addictive. But weak macroeconomic headwinds have caused pullbacks in discretionary spending. This has been the underlying headwind, along with a 4% swing in FX impacts causing users to pull back on their spending but not their engagements. Falling net bookings are echoed among video game publishers, including Electronic Arts Inc. (NYSE: EA) and Take-Two Interactive Software Inc. (NASDAQ: TTWO). 
Expanding the Core Demographic
The company experienced unprecedented growth during the pandemic as kids stayed home with nothing to do. However, those significant tailwinds have disappeared, and the normalization process has been underway. Roblox has been trying to expand its core audience to tap into the adult gaming demographic, investing in more immersive technologies. However, there's too much competition, and the appeal of blocky avatars on a kid's platform doesn't stick for adult gamers.
Nearly 70% of Roblox users access it through a mobile device. Roblox is expanding access to its platform to include the Sony Corporation (NYSE: SNE) PlayStation 5 and Microsoft Corp. (NASDAQ: MSFT) Xbox. It's referring to its platform as a "human experience platform" rather than a gaming platform. Roblox is pushing to expand its footprint in the education segment, pointing out that the Museum of Science in Boston has used its platform to create immersive interactive experiences.
Surprise Bookings Growth On Pace with MAU Growth
On Feb. 15, 2023, Roblox pleasantly surprised investors as its bookings grew in its fiscal fourth-quarter ending December 2022. The company reported an earnings-per-share (EPS) loss of $0.48, beating analyst estimates for a loss of $0.54 by $0.06. Bookings rose 17% year-over-year (YoY) to $899.4 million beating $882.71 million consensus analyst estimates. The Average Daily Active Users (DAUs) grew 19% to 58.5 million. Engagement hours grew 18% to 12.8 billion. Average bookings per DAU (ABPDAU) dropped 2% to $15.29 or up 2% in constant currency.
Roblox CEO David Baszucki commented, "With 65 million daily active users in January, we are driving towards our vision to reimagine how people come together by enabling deeper forms of expression, communication and immersion."
January 2023 Update
Roblox provided some critical metrics for the current quarter month of January 2023. The company expects revenues to grow 22% to 24% or $213 million to $216 million. Bookings are estimated to grow 19% to 21% between $267 million to $271 million. Europe and APAC saw 29% bookings growth in January. Average DAUs grew 19% YoY to 65 million. Hours engaged grew 19% to 5 billion. Estimated ABPDAU is expected to range from flat to down between $4.11 to $4.17.
Roblox CFO Michael Guthrie said, "Bookings accelerated meaningfully in December and January, with year-over-year growth exceeding 20% in both months. Growth was strong across all geographies and age groups with particular strength among users above 17 years old. As bookings re-accelerated late in 2022, we saw immediate improvements in adjusted EBITDA margins."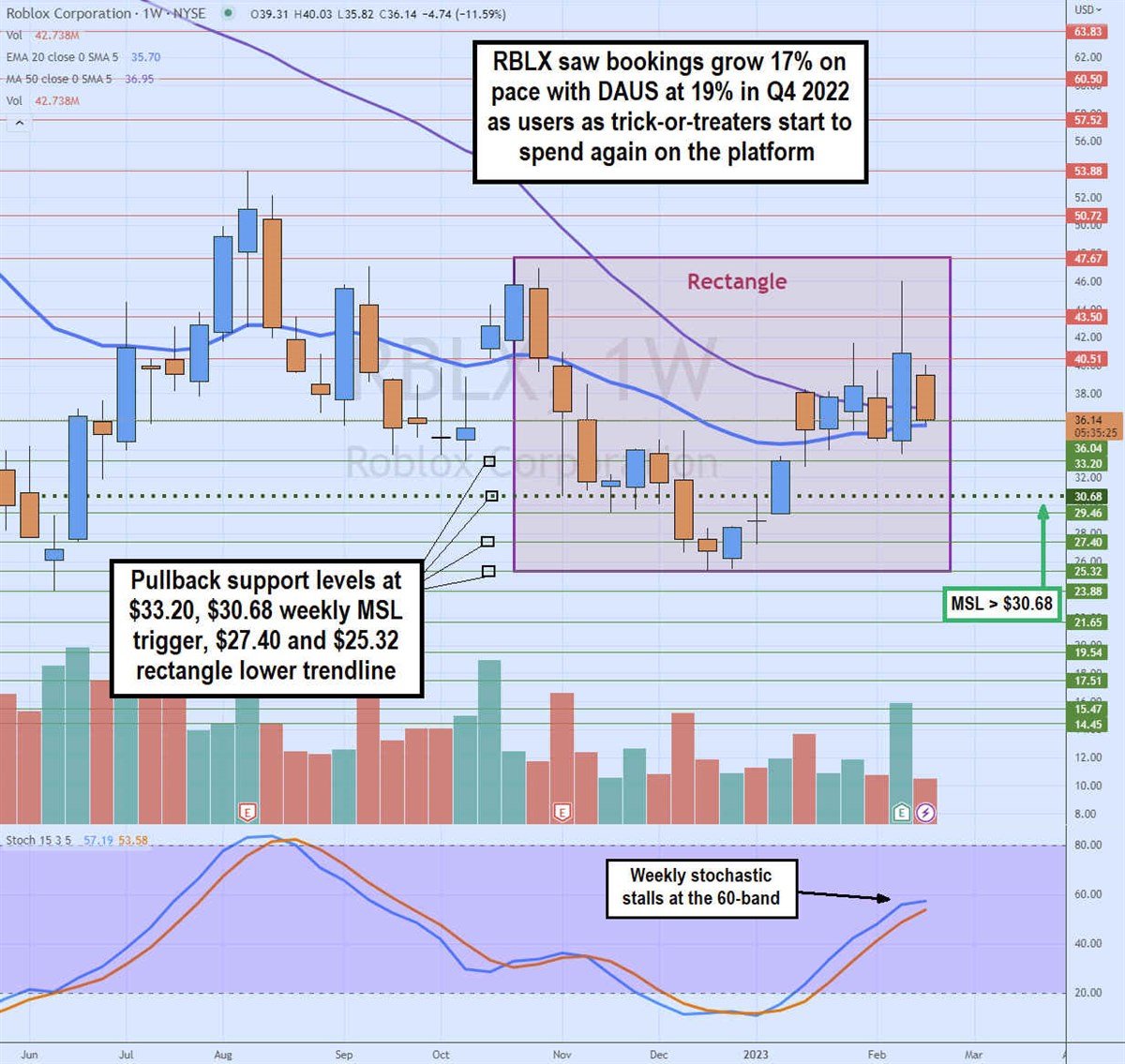 Weekly Rectangle Trading Range
The weekly candlestick chart on RBLX has been in a rectangle trading range since it peaked at $47.67 in October 2022, forming the upper trendline and falling to a low of $25.32, forming the lower trendline in December 2022. Shares triggered a weekly market structure low (MSL) breakout through $30.68 to rally to a high of $46.05 on its surprise Q4 2022 earnings report. Shares have since returned to the weekly 20-period exponential moving average (EMA) range at $35.72 and the weekly 50-period MA range of $36.96.
The weekly stochastic bounce is stalling at the 60-band as a make-or-break pattern sets up to break through the rectangle's upper trendline or down through the rectangle's lower trendline. Pullback support levels are $33.20, $30.68 weekly market structure low (MSL) trigger, $27.40, and $25.32 lower rectangle trendline.