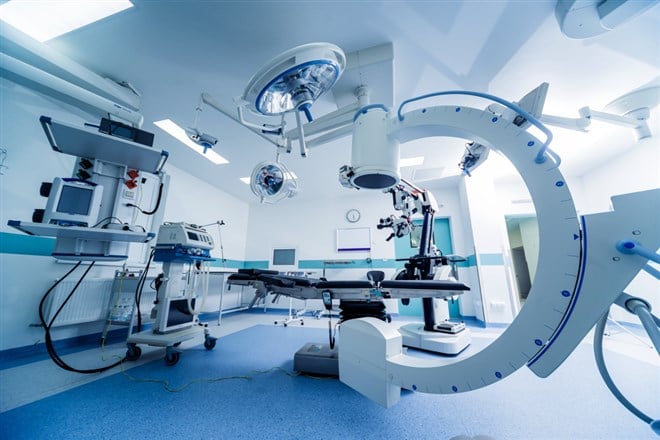 Large-cap medical device maker Stryker Corp. (NYSE: SYK) is consolidating along its 50-day moving average, a bullish sign as the stock takes a breather after a run-up that began last year.
The stock has rallied 7.46% in the past three months. It ran to a high of $284 on February 3, after gapping up in late January on the heels of better-than-expected quarterly results. Following a quick uptrend, it's not surprising to see a pullback while a stock digests its gains, and some investors pocket profits. 
Stryker is notable because of its market capitalization of $102.91 billion, but it's not the only medical device maker flashing strong technical and earnings performance at the moment. 
Smaller companies, including Penumbra Inc. (NYSE: PEN), Lantheus Holdings Inc. (NASDAQ: LNTH) and Align Technology Inc. (NASDAQ: ALGN) are also bullish chart action and strong earnings forecasts.
Current trends and changing demographics are behind the growth of medical technology companies. An aging population, a shift away from hospital care and toward in-home care, and increased rates of hypertension, diabetes, and other chronic conditions are boosting sales of gear.
Meanwhile, technological advances, including wireless connectivity and outpatient surgeries, are also driving industry change. 
Although the massive supply-chain problems of 2021 and 2022 are gradually fading, companies still reference those problems in their earnings releases.
Stryker
In its fourth-quarter report, Stryker CEO Kevin Lobo cited "improved supply" among positive factors. "We expect continued positive sales momentum in 2023 and for adjusted earnings to gradually improve over the course of the year," he added. 
In the earnings release, the company said, "As we assess the current operating environment, we believe that there will continue to be macro-economic volatility caused by alleviating supply chain disruptions, inflationary risks and currency fluctuations. Despite the volatile macro-economic environment, we have good momentum in many parts of our business heading into 2023."
For the full year, the company expects organic net sales growth in the range of 7.0% to 8.5% and adjusted net earnings per diluted share in a range between $9.85 and $10.15. Wall Street is currently eyeing earnings of $10.03 a share, above the midpoint for Stryker's range. That was recently revised lower. 
Penumbra 
Mid-cap Penumbra specializes in technology to remove blood clots, which are related to a number of potentially serious medical conditions. It recently launched a new product called Lightning Flash designed for accelerated clot detection and removal. Other new products are expected this year. 
The stock boasts a year-to-date gain of 13.04% and a one-year return of 24.48%. According to MarketBeat data, analysts have a "buy" rating on the stock with a price target of $265.42, a 5.47% upside. 
Lantheus
The Massachusetts mid-cap is in the business of diagnostic imaging and nuclear medicine products. Its products assist healthcare professionals with patient management and cardiovascular disease detection.
Revenue grew at triple-digit rates in the past four quarters, while earnings were up triple- and quadruple-digit rates in the past six. That red-hot pace is unsustainable for any company over the long haul, but Wall Street is still upbeat about Lanthsus' prospects. Analysts pegged earnings growth at 18% this year and 11% in 2024. 
Analyst data tracked by MarketBeat show a consensus "buy" rating.
Align 
The large-cap maker of Invisalign orthodontic products is familiar to consumers. Earnings took a tumble in 2020 as pandemic restrictions forced closures of orthodontic clinics. Earnings growth has been erratic since then, although the company remains profitable. Analysts expect Align to grow earnings by 3% this year and 22% next year.
A look at the stock's chart, using a bar or candlestick view, shows Align gapping up 27.38% on February 2, following a fourth-quarter report that beat Wall Street views. The company recently initiated an accelerated share buyback program, a move that can boost a stock's price. 
It's currently holding steady near its 50-day line, a good sign that institutions are holding shares, perhaps before a next round of buying.