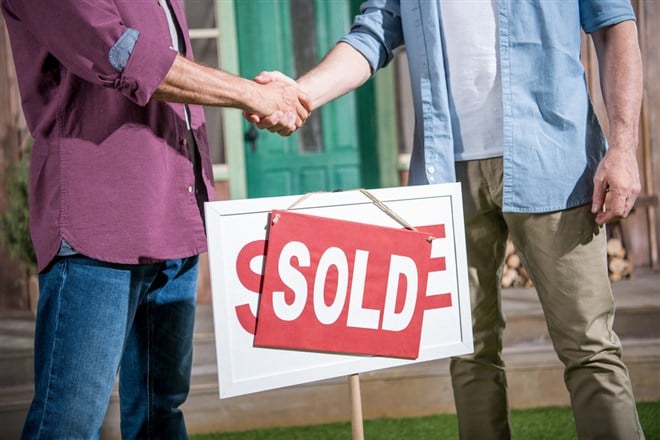 Opendoor (NASDAQ: OPEN) is under immense pressure as interest rates rise, home prices decline, and the company's losses pile up. Wall Street lost all faith in the company, with its share price plummeting 97% from 2021 highs. 
Opendoor is in the iBuying business -- using pricing algorithms to buy houses from customers at a discount to fair value. Opendoor's cash offers and quick closing process are a tremendous value proposition for sellers who avoid realtors, open houses, and home staging.
However, overly optimistic pricing models, mounting debt loads, and stale inventory exposed significant flaws in the iBuying model. The writing is on the wall, with peers like Zillow and Redfin closing their iBuying divisions following substantial losses.
Opendoor is pivoting to an asset-light marketplace model similar to Airbnb to survive. But facing a real estate downturn, the bears think it's too little too late for Opendoor, making rapid execution of the turnaround plan vital to Opendoor's survival.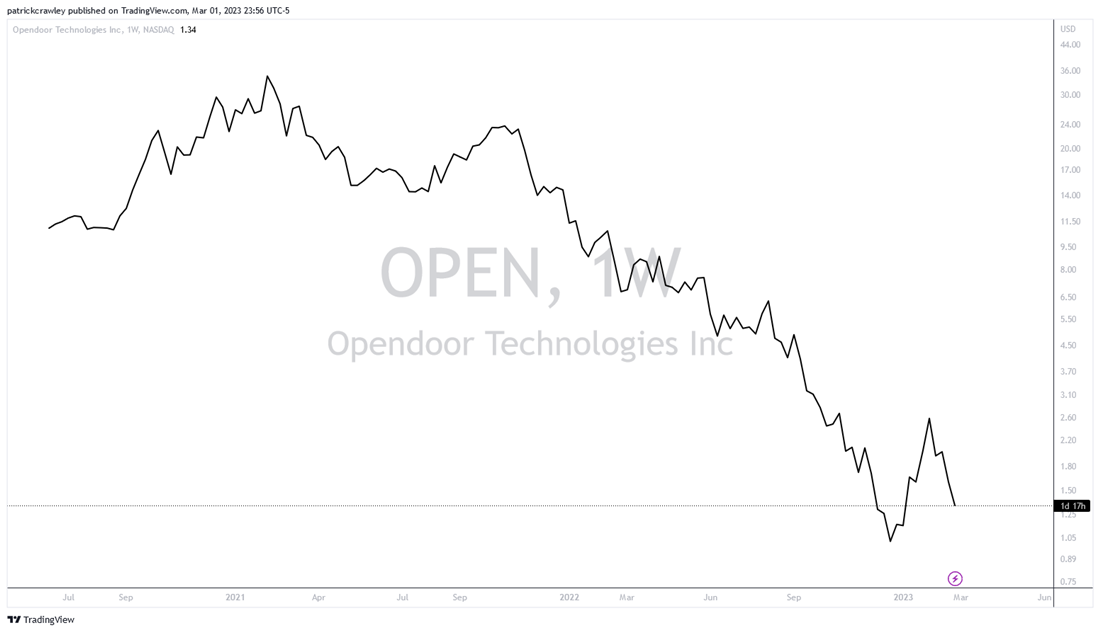 Why Wall Street Hates Opendoor
Even though Opendoor got off to a good start, going public in excellent conditions for home buying post-COVID, many Wall Street analysts have turned bearish on the stock, continually slashing price targets.
The iBuying business is capital-intensive, requiring lots of debt while carrying low margins and considerable downside exposure if home prices decline.
Furthermore, whether Opendoor's pricing model has, any predictive power is debatable. The company has overpaid for homes at multiple points in the post-COVID real estate cycle, leading to losses: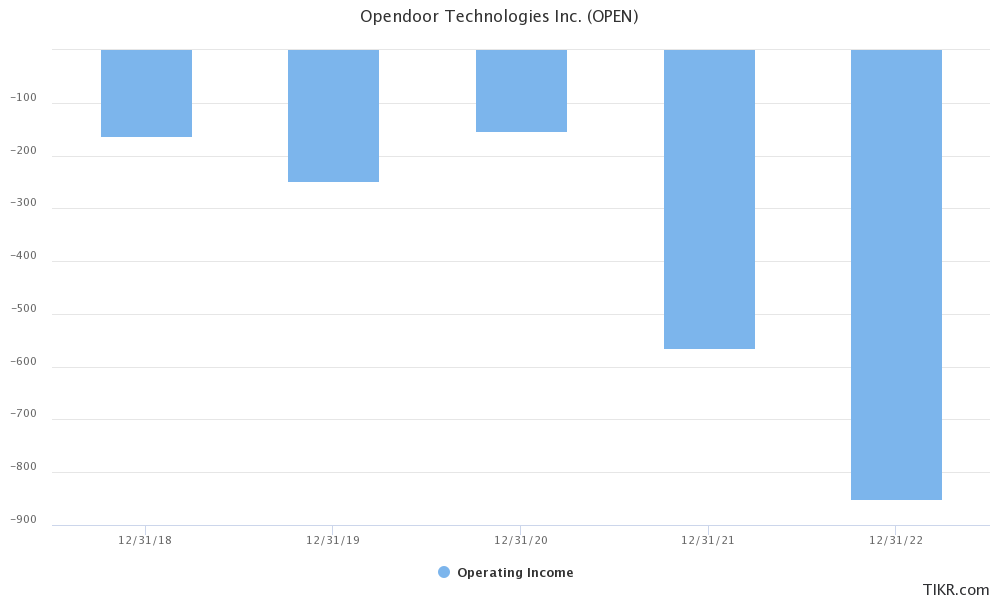 To demonstrate Wall Street's rejection of the iBuying model, look at the stock price performance differential between Zillow Group (NASDAQ: Z) and Opendoor following Zillow's exit from the iBuying business. When the chart below is going up, that means Zillow's stock is outperforming Opendoor: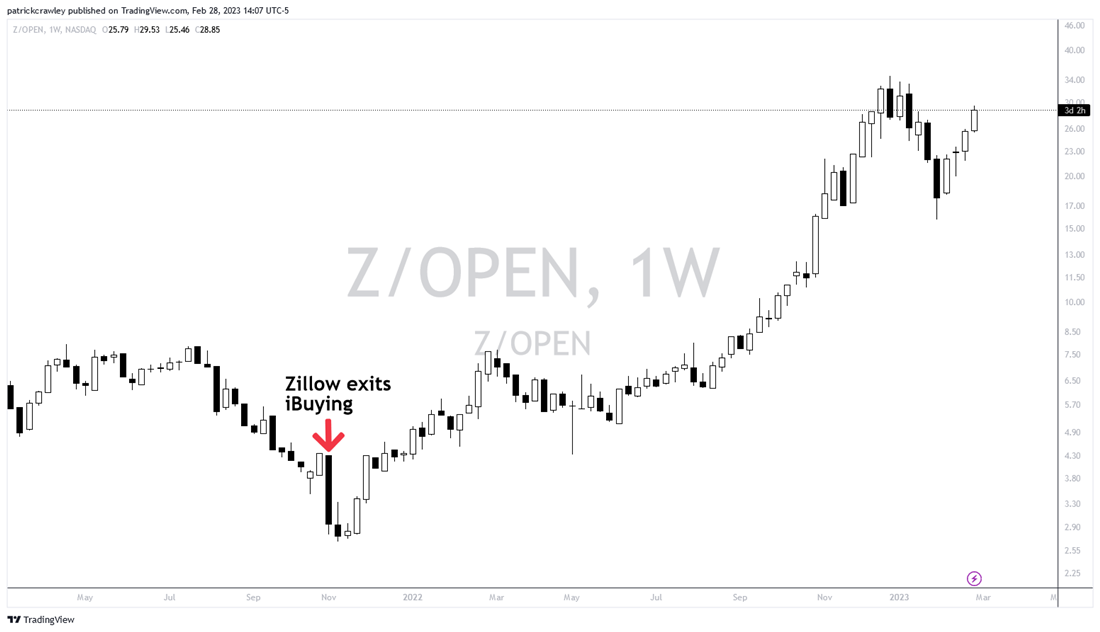 Even when conditions were favorable throughout 2020-2021, Opendoor failed to book a profit. With mortgage rates rising at record speed in 2022, home sales volumes slowing, and home prices declining, many ask if the company is planning a turnaround too late in the real estate cycle.
Opendoor: It's Do or Die Time
Because it can be argued that iBuyers like Opendoor only fare well in a rising real estate market, all signs indicate that more pain is ahead for Opendoor. Given the mounting losses and significant debt, some short sellers predict bankruptcy.
However, bulls point out that with the highly depressed share price (down 97% from highs), even a modest turnaround in operations can light a fire under the share price. Furthermore, Opendoor's turnaround plan is quite interesting. Success on this front can see the company's valuation re-rated to align with other marketplaces like Airbnb (NASDAQ: ABNB).
C-Suite Shakeups
Opendoor's founder Eric Wu stepped down from the CEO position in December 2022 to be replaced by then-CFO Carrie Wheeler. Many interpret this as a good sign, as it's often a sign that financial discipline is on the way when a CFO financial-type takes the reins in a distressed situation.
Under Wheeler's leadership, it wouldn't be a surprise to see the company tweak its pricing model to be more conservative and buy fewer homes at better prices.
Shifting to an Asset-Light Model
With a massive debt and inventory overhang on the company amid rapidly rising interest rates, Opendoor looks to transition a portion of its business to an asset-lighter model.
The main initiative on this front is their Opendoor Exclusives program, which operates as a real estate marketplace that nicely layers on top of Opendoor's existing business. Essentially, after making an offer to a seller, Opendoor also gives their network of buyers in the Opendoor Exclusives program a chance to outbid Opendoor. Should that occur, Opendoor collects a fee on the transaction without the need to buy the house itself.
It's similar to how Airbnb operates as a short-term rental marketplace and collects a fee for connecting buyers and sellers rather than holding any inventory itself.
Opendoor sees Exclusives as the future of its business, aiming for at least 30% of its total transactions to go through its marketplace by the end of 2023. In a recent interview with tech blog Stratechery, former CEO Eric Wu detailed that his long-term vision has always been for Opendoor to shift from their low-margin house flipping business into a high-margin marketplace model.
Bottom Line
Facing a significant debt and inventory pile with poor future funding prospects, it's do-or-die time for Opendoor. Looking forward, the company is likely to face struggles as it continues to write down the value of its inventory while revenue declines as the company flips fewer houses.
However, investors wanting to play a turnaround in Opendoor should closely track the performance of Opendoor Exclusives. A successful pivot to a higher-margin marketplace model can be a game-changer, especially for a depressed stock price.