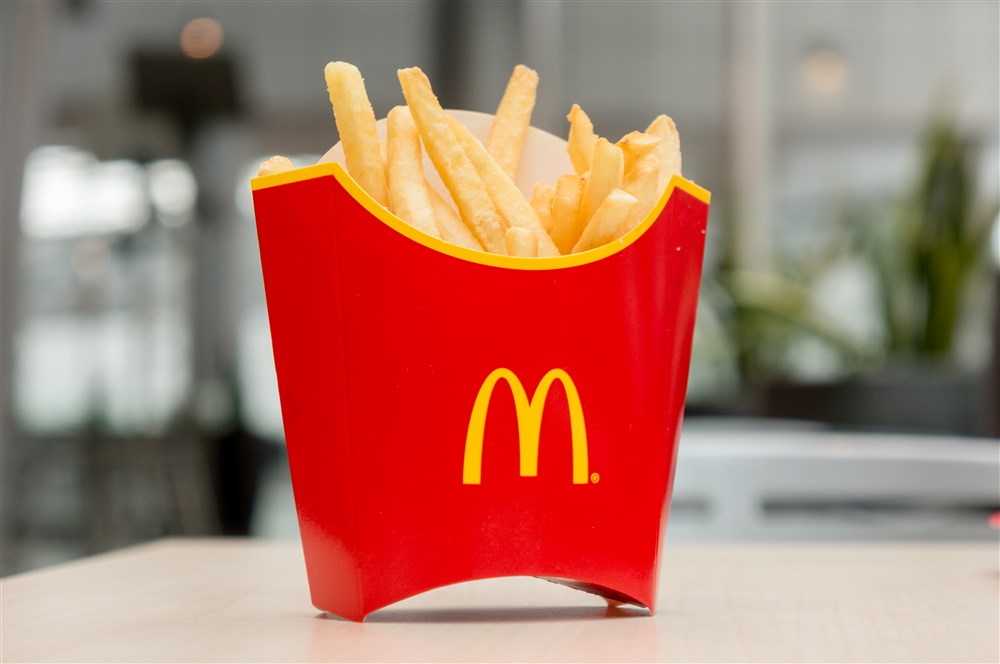 Walmart (NYSE: WMT) has announced that it will pursue further automation in its stores, as wage inflation is driving a decline in margins for operators. A swift replacement in the underlying staff composition and productivity is the initial step for the giant to pivot into the next phase of capitalism. In addition, investing in areas like artificial intelligence and robotics can eliminate human error in daily mundane activities across various enterprises, which all accrue to revenue retention via higher margins and cash flow available to shareholders. 
It seems like other areas in the economy besides retail and wholesale, artificial intelligence and especially the upcoming branch of robotics are drawing attention from companies that could not only benefit from the applied uses of the technology but that can also afford to test a variety of products and methods without terribly affecting their free cash flows and investor sentiment.
 McDonald's (NYSE: MCD) has reportedly started to adopt some of these trends, which started not too long ago with self-order kiosks as a preferred ordering method, and has now evolved into the company's first automated restaurant in Fort Worth, Texas, during the fourth quarter of 2022 amid a rise in franchisee complaints of lower cash flows and rising wage costs.
Expansion Contingent on Satisfied Franchisees
The fast-food giant reported at the end of the 2022 fiscal year that it is shooting for a restaurant-opening spree in 2023. In addition, McDonald's wants to increase its total restaurant count by 1,900 this year, with 1,500 restaurants outside the United States and the remaining 400 being domestic-based. Despite these expansion announcements, the firm has been facing pressure from franchisees in the U.S. as they faced declining cash flows from their operations.
Franchisee-owned McDonald's locations accounted for nearly 61% of total company revenues in 2022 and a subsequent 70% of total U.S. revenue; therefore, incentives to create (and maintain) franchisees are of utmost importance when executing the intended new store openings across the country. However, rising wage costs and other inflationary pressures have squeezed margins for franchisees.
While food and paper costs have declined as a percentage of revenue, from 14.8% in 2018 down to 11.8% in 2022 despite increasing inflation throughout the year, a valid showcase of efficiency within the firm, other items such as payroll and employee benefits have remained elevated measuring at 11.3% of revenue. 
Franchisees have complained of the rising wages and operational mandates declared by corporate management for 2023, stating that they are headed on a "destructive path." Facing such bold sentiment from operators, the fast-food giant opened its first mostly-automated restaurant to test consumer adoption, scalability, and profitability of such a concept.
This behavior of productivity and efficiency drive is a perfect example of free-market behavior, achievable by McDonald's strong balance sheet and increased liquidity in a five-year look-back period, showcasing more robust liquidity measures allowing for pivots.
Restructures, Talent Grabbing 
McDonald's reported comparable sales growth for the U.S. region of 10.3% and 12.6% for their global operations, riding the demand tailwind from reopening economies worldwide boosting consumption, the affordability of the company's menu can act as a further push for consumption amid currently elevated inflation levels seen in the U.S. economy. However, despite these advances, management realizes that to carry on its expansion plans and appease franchisees, cost-cutting activities must take place. 
The quickest and most common method of cutting costs in a business is through overhead reduction, also known as layoffs, something McDonald's has reportedly been gearing up for. Management has decided to lay off hundreds of corporate employees and allow some to stay under reduced benefits and compensation.
An employee even takes the public spotlight and writes a LinkedIn post about the development. According to CEO Chris Kempczinski, layoffs will allow the company to invest in its growth and move faster as an organization. 
Apart from choosing to layoff some employees and close some field offices to make employment from those locations fully remote, McDonald's has scooped former Chipotle Mexican Grill (NYSE: CMG) executive Tabassum Zalotrawala for the role of senior vice president and U.S. chief development officer starting April 24th.
Given that Chipotle has been able to keep scaling operations and avoid input-cost inflation from items like wages and benefits, Zalotrawala can achieve similar success when overseeing the expansion of new U.S. McDonald's restaurants. 
Analysts rate MCD stock as a 'moderate buy' and assign a mere 1% upside to the current price. Perhaps analysts and markets alike await the results of the layoffs and a more straightforward path out of the weeds from current franchisee concerns.