American author and blog writer, Kawika Miles, has released a new novel, Saga of the Nine: Origins. This new release is a dystopian epic, detailing the struggle between a controlling future government and a young veteran standing against it.
United States - December 6, 2022 —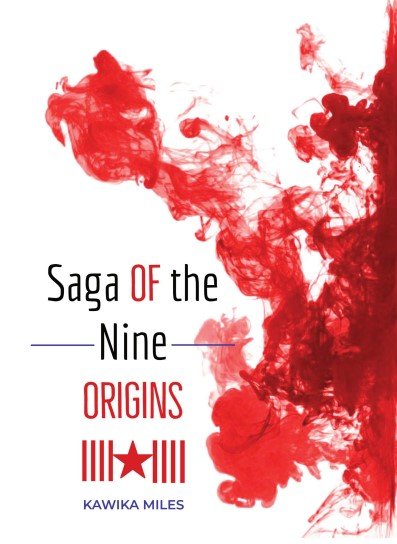 Saga of the Nine: Origins, is a newly released novel, written by Kawika Miles, an American writer who aims to write about a potential future for the country through a dystopian thriller that calls into question the nature and direction of government, with freedom and liberty as central themes.
The new novel, Miles' debut, depicts a speculative and unnamed future in which the world is thought to large be safe and equal under the firm rule of a council known as "The Nine" and a global Government. The protagonist, Jax, begins as a mill worker, before discovering both illegal, historical documents uncovering the truth of what his home used to be, as well as the Raiders, a small band of resistance fighters.
From there, Jax begins to fight to restore the values he has read about in the long-lost documents. A second narrative follows young veteran Mica Rouge in 2036's America, in a Cold Civil War and on the verge of collapse. He joins an off-the-books intelligence agency—The Minuteman Division—in an effort to inspire the forgotten American ideals that he has fought for before. Together, both Mica and Jax aim to prevent the Nine's total victory.
Miles' debut, Saga of the Nine: Origins, has already received some positive reviews. For example:
"The ambition of Miles's thoughtful, sweeping epic of a falling—and fallen—America is clear… Seeded throughout is the resonant idea that a dystopia isn't just brought about by villains." —Booklife Reviews
"Must read. An unsavory future, corrupt leadership, secrets, lies, and betrayal. —Reedsy Discovery
Kawika Miles is a US-based writer and the founder of the website Damn It I Love America, a site dedicated to the discussion of liberty as it pertains to modern America and those who struggle to protect it. Hosting regular conversations of faith, family, and freedom, Miles has been a guest contributor for Wrongpseak.net. He regularly publishes articles on the nature of dystopia, including how modern countries may be considered to be falling into dystopia, and the latest articles that he believes are leading to such a fate for America.
This theme of dystopia, and how the sanctity of freedom must be protected to prevent it, is a clear theme running throughout Saga of the Nine: Origins. The book can be found at Barnes & Noble, as well as on Amazon, at the moment.
To learn more about Saga of the Nine: Origins, a debut American Dystopian Saga, or its writer, Kawika Miles, you can visit his website directly at https://www.damnitiloveamerica.com.
Please address and send any press inquiries directly to Kawika MIles, who can be reached by email at kawika@damnitiloveamerica.com.

Contact Info:
Name: Kawika MIles
Email: Send Email
Organization: Saga of the Nine: Origins
Website: https://www.damnitiloveamerica.com

Release ID: 89086030
If you detect any issues, problems, or errors in this press release content, kindly contact error@releasecontact.com to notify us. We will respond and rectify the situation in the next 8 hours.